Dieter Fellner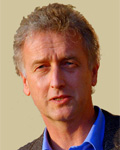 DIETER FELLNER is professor of computer science at the Technical University of Darmstadt, Germany, and the Director of the Fraunhofer Institute of Computer Graphics (IGD) at the same location. Previously he has held academic positions at the Graz University of Technology, Austria, the University of Technology in Braunschweig, Germany, the University of Bonn, Germany, the Memorial University of Newfoundland, Canada, and the University of Denver, Colorado. He is still affiliated with the Graz University of Technology where he chairs the Institute of Computer Graphics and Knowledge Visualization he founded in 2005.
Dieter Fellner's research activities over the last years covered algorithms and software architectures to integrate modeling and rendering, efficient rendering and visualization algorithms, generative and reconstructive modeling, virtual and augmented reality, graphical aspects of internet-based multimedia information systems and digital libraries. In the latter field he has initiated/coordinated the first strategic initiative on 'General Documents' (funded by the German Research Foundation DFG, 1997-2005) followed by a DFG-Research Center on 'Non-Textual Documents' (2006-2011). In 2006 he initiated a new funding initiative on 'Visual Computing' funded by the Austrian Ministry BMVIT.
In the areas of computer graphics and digital libraries Dieter Fellner is a member of the editorial boards of leading journals and a member of the program committees of many international conferences and workshops.
He is a member of the EUROGRAPHICS Association where he serves in the Executive Committee, ACM, IEEE Computer Society, and the Gesellschaft für Informatik (GI) where he serves as a member of the extended Board of Directors and as Chairman of the Graphics Chapter (Fachbereich Graphische Datenverarbeitung). In 2009 he became a member of the Academia Europaea.
Furthermore, Dieter Fellner is an appointed member of the IST Advisory Group (ISTAG) for the European Commission's DG Information Societies and Media as well as an advisor for the German Scientific Council, and the German Research Foundation.